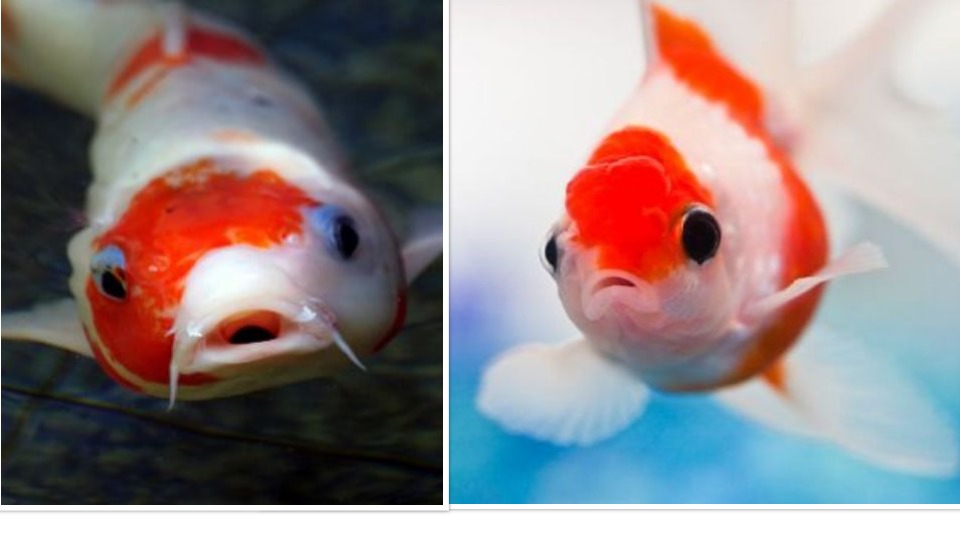 Koi fish are omnivorous. That means they eat both plants and animal origin.
Although adult koi fish are unlikely to eat medium and large size, if there is a change, they may eat smaller size fish.
But, Will a koi eat goldfish?
Can you stock koi and smaller fish in the same tank or pond?
Stick me to the end to find the answer.
In this article, you will learn what fish koi can eat and also what fish are safe to stock with koi.
Will Koi Eat Goldfish?
Koi fish will not eat an adult size common goldfish. But, they can eat small baby goldfish.
Again if you have small size fancy goldfish in your pond or tank, if they are hungry koi fish can eat them up or at least try to eat. So, you should not stock fancy goldfish with koi fish in your pond.
Goldfish can breed in the pond and tank. When babies come out, they are small and vulnerable. There is a great chance that koi fish will eat them in that small stage. Therefore it is also a bad idea to stock common goldfish with koi when you want to breed them. A koi will also eat the goldfish egg.
There is another reason not to stock koi and goldfish together. The goldfish will be malnourished as they can't compete with koi for food.
Will Koi Eat Other Smaller Fish?
Smaller size fish can be an easy target for a hungry adult koi. Smaller fish can't resist a koi attack. A koi fish has a largemouth.  A smaller fish can easily pass through the mouth of a koi when they suck the water to eat or breath.
Smaller Fish That Koi Will Eat
Danios
Guppies
Minnows
Siamese Algae Eater
Medium Small Fish That Koi May Or May Not Eat
Barbs
Fancy Goldfish
Fry Fish
Juvenile Fish
Mollies
Small Catfish
Fish That Koi Will Not Eat
Medium and large size fish are great to stock with koi. There is a wide range of species of fish that can be stocked with koi in a garden pond or aquarium. But these are the best fish to stock with koi –
Golden Orfe
Tench
Barbel
Sturgeon
Pleco
How to Prevent Koi from Eating Smaller Size Fish
Although, there is a good chance that koi will eat smaller fish you can stock both in your pond using some tricks.
Always give your koi's an adequate amount of food. Don't keep them hungry for a long time. And maintain the quality of food carefully.
Add pond plants and some duckweed or water lettuce so that Koi's can eat them when.
Provide enough facility to the zooplanktons and small pond insects so that they can breed and grow. Koi fish will eat them and leave the small fish.
Design your pond or tank is such a way that smaller fish can hide in the shelter.
Keep these smaller fish with koi in large pond or tank.
Don't stock too many fish in a small place. A large population of fish in a pond create food scarcity and this can lead a koi to eat smaller fish.
It is better to stock the same size fish together. This keeps the fish safe from eating one another. This also makes sure a good nourishment for all the fish.
Therefore I suggest you stock koi fish with those fish that has almost the same size and diet of koi and doesn't bring harm to another.
If you want to stock smaller size fish with koi, then make sure you have taken enough safety measures that I have discussed above. Otherwise, a hungry adult koi can eat young or baby goldfish and other fish.