Pond liner isn't cheap and many people are looking for alternatives. Luckily, there is a wide range of materials that you can use instead of a pond liner. In this article, we have discussed some of the cheap pond liner alternatives that you can use in your pond. We have also made a list of pond underlays that are cheap and readily available.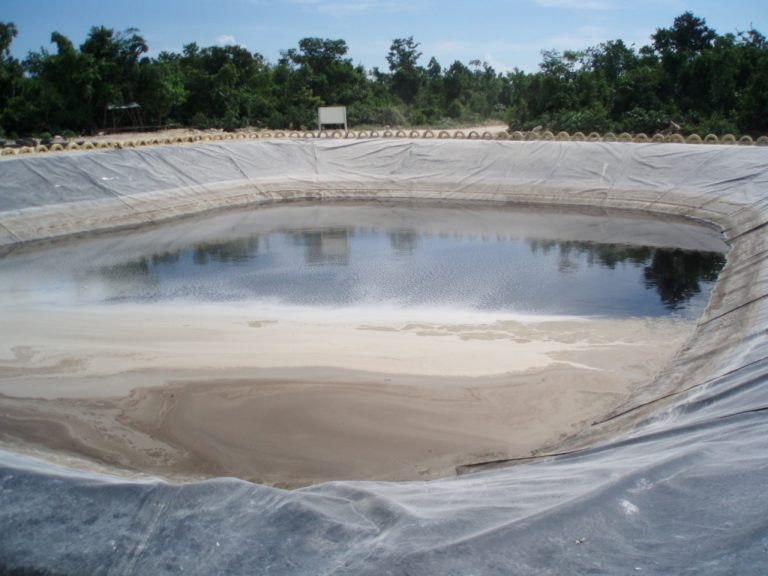 Pond Liner Alternatives to Use
Polyethylene Pond Liner
The cheapest alternative to pond liners that you can find is Polyethylene. It fully retains water.
However, there are several disadvantages. First of all, it is difficult to work with polyethylene due to its thinness and lightweight. On the other hand, this is also easy to puncture. The life of polyethylene is less than EPDM liner and therefore you will need to replace it sooner than EPDM. Polyethylene can cause problems for fish in hot weather because polyethylene will release it when exposed to heat.
But if you use HDPE (High-Density Polythene) liner you won't face these problems. HDPE can give the same performance as EPDM liner. It is cheaper too. You can use this HDPE liner (link to amazon) from Growneer for your pond to save some bucks.
Tarp
Tarp or tarpaulin is widely used for tents for its waterproof capabilities. Tarp has a polyethylene coating over canvas or polyester. Canvas or polyester makes it strong and the polyethylene layer makes it waterproof. Together they made a good pond liner alternative. You can use this Tarp (link to Amazon) for your pond. The quality is good and it is available in many sizes and colors.
PVC Liners
PVC liner is widely used for pool lining. You can use PVC as a lining material for its high puncture strength. It is also resistant to abrasion. Therefore it won't leak by the abrasion of stones and won't require repairing. The chemical resistance gives it long durability.
Lime and Clay Cover
If you completely want to avoid any kind of liners in your pond, you can use lime and clay cover to make your pond retain water. Clay particles are small and retain water well. In this method, a layer of quick lime is used beneath the clay layer and then lightly compacted. Lime and clay make lime concrete which is strong to penetrate and impermeable for water to pass.
Bentonite Sealing
Bentonite is widely used for fixing leaking ponds. Bentonite clay swells when water is added to it. There are three methods of sealing a pond with bentonite. You can adopt a suitable one depending on the soil condition. Bentonite cover can be a cheap alternative to a pond liner for a large pond.
Polypropylene Pond Liner
Polypropylene is another good substitute for the pond liner. It is more durable and strong than the EPDM pond liner. But again there are some disadvantages. If you have experience working with it, then you must know that it is not flexible.
Polypropylene prices are higher than EPDM but for higher strength, it is preferred by commercial fish pond owners.
Waterbed Liner
Waterbed liner does the same job that a pond liner does. A water bed liner is more strong and durable than an EPDM pond liner. But they are not cheaper than EPDM.
But as the popularity of waterbed is decreasing, you can easily find old waterbeds and take out the liner from it. A waterbed liner is sufficient for a small garden pond. But when we talk about a large pond, this is certainly not a good option.
Pond Liner Underlays Materials
You will find sharp and hard material in the bottom when you construct a pond. They can puncture your pond liner easily. To save your liner from these objects, you will need to provide pond liner underlay. You can use a wide range of materials for this purpose. Just make sure they provide enough padding. Some easily available pond liner underlay are as follows –
Geotextile
Weed Barrier
Old Carpet
Trap
Newspaper
Landscape Fabrics
Vinyl
Quilts
Old Blankets